Recipe: Cornbread with Yellow Cake Mix

Print This Post
The trick to making cornbread that is fluffier, less grainy, and doesn't have the bitter aftertaste is to add yellow cake mix to your cornbread mix. You can either do a 1 to 1 ratio of cornbread to cake mix, or you can do 1.5 cornbread to 1 cake mix, depending how subtle you want tone down the graininess of the cornbread.
You can follow the directions for the cornbread and cake mix, combining ingredients from both boxes together and then cook at the temperature and time stated for the cornbread. Adding an egg as required by the yellow cake mix is going to make your cornbread quite fluffy.
You can also just add the cake mix in as if it were cornbread. So if your box of cornbread calls for 1 cup of water and the full box of cornbread, then only add half the box of cornbread and an equal part of yellow cake mix.
Here is a step by step ingredient list for those who don't like to experiment like I do.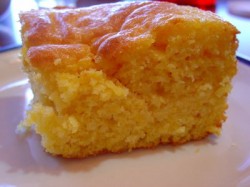 Ingredients
1 box Jiffy cornbread
1 box Jiffy yellow cake mix
1/2 c. water
1/2 c. milk
2 eggs
1/4 c. oil
Instructions
Bake in greased 8 x 8 inch pan.
Bake 30 minutes at 350 degrees. Check for doughiness and use a toothpick in the middle to make sure it comes out clean.
Cooking time (duration): 30
Recipe: Cornbread with Yellow Cake Mix

,