8 No Brainer Guide to Cooking for Many

Print This Post
First time dinner group members and those contemplating joining a dinner group usually have the same complaint: "I don't know how to cook by the bulk!" or "I always end up cooking too little or too much!" This is understandable of course. Cooking by the bulk is a lot different from cooking for your family of four. And waste equals supposed to be avoidable expenses. It is understandable to make mistakes at first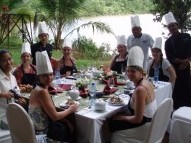 of course and cooking for many people is a daunting task but if you are armed and prepared, you can readily take on the challenge and reap the benefits of having a dinner group. Here are some tips we have for those who want to lessen their mistakes as much as possible:
1. Ask around. This one is a no-brainer. No one who asks for directions (from the right people of course) gets lost. Ask experienced dinner group members in your area for advices on the quantity of food you should cook. If you have friends who are in the catering business, you can also ask them too.
2. Take note of the number of people you will be cooking for. You can make estimates of proportion based on this.

3. Check the web. Another no brainer. Join forums of dinner groups. Make friends with them. Find recipes for bulk cooking. Watch videos of bulk cooking.
4. Check spoilage date for different fruits and vegetables. If you plan to stock in advance or take advantage of a sale, you should really be aware of this.

5. Try to buy a day or two before your scheduled time to cook. This will lessen the chance that you will have spoilage. (If you do this you can ignore tip # 3.)

6. Ask supermarkets if they have quantity discounts. This can lessen costs for you and your group.

7. Invest in equipment for bulk cooking. This might entail added costs but you'll actually end up saving in the long run. Your meals would taste better and your cooking time will become shorter.

8. Learn from your mistakes. Mistakes are inevitable especially for first time cooks. But that doesn't mean you should stop because you had a setback but it also doesn't mean that you will do the same mistake all over again.
We call this a no brainer guide because it is. And it doesn't require much effort either. So don't hesitate starting that dinner group you've always wanted to have.