Recipe: Olive Garden Alfredo Sauce

Print This Post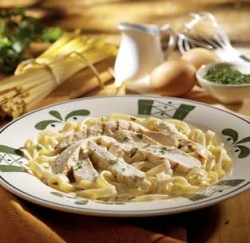 Ingredients
1 1/2 cup milk
1 1/2 cup heavy cream
1/2 cup imported Parmesan cheese, grated
1/2 cup imported Romano cheese, grated
6 egg yolks from fresh jumbo eggs
Salt and black pepper to taste
Instructions
HEAT milk and cream in a heavy bottom saucepan until it begins to simmer. Turn off heat.
Slowly whip in cheese, then remove from heat.
PLACE egg yolks in a separate bowl and slowly whip in a portion of the hot milk and cream mixture.
Slowly add egg yolk mixture back into remaining cream mixture. Place back on very low heat and continually stir until simmering. Take sauce off heat so it thickens. (This will increase temperature of egg yolks, known as tempering).
SEASON to taste with salt and black pepper. Taste as you add pepper and salt, so not to over or under season.
Serve over your favorite pasta. Add cooked chicken over the top of the Alfredo Sauce.
Cooking time (duration): 20
Number of servings (yield): 4