Recipe: Apricot Pineapple Chicken

Print This Post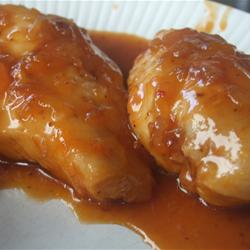 Sweet and tangy chicken made with just four ingredients. Perfect over rice or with potatoes.
Ingredients
1 pkg. Lipton onion soup mix
1 Cup Russian Dressing (Wishbone makes it)
2 Cup apricot jam
1 large can pineapple
8 pieces of boneless chicken.
Instructions
Preheat oven to 350 degrees. Mix all above ingredient together. Cook for 45 minutes to an hour until chicken is done. Serve over rice or potatoes.
Cooking time (duration): 60
Number of servings (yield): 8
Meal type: dinner
Submitting by: Gwen