Recipe: Cafe Rio Pork Salad

Print This Post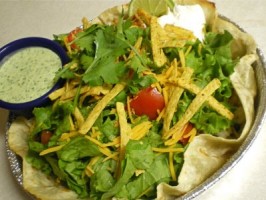 To build your salad, you start with a flour tortilla, add a smidge handful of cheese, a spoonful or two of black beans, a spoonful or two of rice, as much pork as you think you can get away with, pile on shredded romaine lettuce, a couple of spoonfuls of pico, some guacamole if you have it, the tomatillo dressing and then homemade tortilla strips
Total Prep-time: 18 hours, technically. But most of that is just waiting for the pork to cook. I'd say active cook time for the entire meal was perhaps an hour, maybe 1 hour 15 mins. Lots of this meal (dressing, pico) can be made before-hand and kept in the fridge until it's time to eat.
Café Rio Salad Ingredients
Tortilla – you can make your own, mine came from a package.
Cheese – it is a good idea to warm on the tortilla so the cheese is a little melty.
Beans – black or pinto (mine came straight out of the can, warmed in the microwave with a little garlic powder and green Tabasco sauce).
Rice – don't be stingy now!
Pork – I am actually salivating while writing this post…
Lettuce – Shredded Romaine, you want small enough pieces to get a little of everything on your fork
Pico de Gallo – I like extra pico, so I give myself an extra scoop.
Tortilla Strips – slice a corn tortilla into strips, brush with olive oil and salt and pepper and bake on a foil-covered sheet for 15-20 minutes at 350-ish.
Creamy Tomatillo Dressing – I like to keep mine on the side so my lettuce doesn't get too slobbery
Cafe Rio Cilantro Rice
Ingredients
3 cups. water
4 cloves minced garlic
1/2 bunch chopped cilantro
1/2 medium onion, chopped
1 can (4 oz) green chilies
4 tsp. chicken bouillon
1 tsp. cumin
3/4 tsp. salt
1 TB butter
3 cups rice, uncooked
Instructions
Bring water to a boil in large pot, add all ingredients.
Cook covered for 30 minutes, or until rice is done.
Total Prep-Time: About 10 minutes, although a food processor would cut down your chopping time significantly.
Cafe Rio Pork Barbacoa
Ingredients
5-6 lb. pork roast
21 oz. Dr. Pepper (or Coke, do NOT use diet soda)
1 cup brown sugar
3/4 cup white sugar
1 clove garlic, minced
7 oz. can chipotle chilies in adobo sauce
6-ish oz. red taco sauce (I used hot)
1 tsp dry mustard
1 tsp cumin
1/4 tsp cayenne pepper
Instructions
Place roast in crock-pot, cover half-way with water and cook on low for 12 hours. (I started my Pork Adventure at midnight and everything worked out perfectly for Sunday dinner at 6:00 pm.) After 12 hours, drain pork (retain liquid if you want sauce for burritos, simply mix with a can of verde enchilada sauce and away you go.)
Mix remaining ingredients until sugar dissolves. I didn't keep the actual chilies, I dumped the can into a bowl and added enough Dr. Pepper to get all the sauce off of the chilies, then I tossed them. I also rinsed out the can with Dr. Pepper for more adobo goodness. My version had a fairly good kick to it, but if you LOVE hotness, then blend everything + 2 or 3 chilies in the blender. (Also, the adobo sauce tends to stain plastic, using a glass or metal mixing bowl will make your clean-up of adobo sauce considerably less frustrating.)
Add Dr. Pepper mixture to the roast and cook on low an additional 4 hours. Take out roast and shred, add back into sauce and cook for 2 more hours. At this point the meat was so tender it practically shredded itself.
Cafe Rio Tomatillo Dressing
Do not skip this part, the dressing is my favorite part of the salad! Creamy and spicy and zesty, it is absolute heaven. I actually use leftover dressing for a tomatillo-cilantro salsa, this stuff makes regular, everyday corn-chips taste like exotic, savory treats. (Because we all know, corn is not exotic on it's own.) If it can transform corn chips, just IMAGINE what it will do for your salad! Besides, it takes 3 minutes to put together.
Ingredients
1 pkg. Ranch dressing mix
3 tomatillos (remove papery skin), rough chop
1 cup mayo
1 cup buttermilk
1 cup (or more) cilantro, rough chop
3 cloves garlic
1/8 tsp cayenne pepper
2 tsp green Tabasco sauce
juice from 1 lime
Instructions
Dump everything in a blender and blend until smooth.
Refrigerate in air-tight container (or your entire fridge will smell like garlic and cilantro).
Easy Pico-de-Gallo
Ingredients
3 tomatoes, diced
1/2 bunch of cilantro, minced
1/2 sweet onion, minced
1 section of green pepper, minced
3-4 cloves garlic, minced
about 1/3-1/2 cup vinegar (use your best judgment)
salt and pepper
Instructions
Mix it up really well and refrigerate. I put my pico in a Tupperware and shook it up really well right before serving to re-mix.