Recipe: Swiss Steak and Dumplings

Print This Post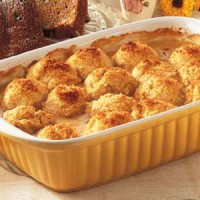 Swiss Steak and Dumplings is from an old Ward Relief Society Cookbook. It is actually called "Missionary Special" Dumplings.
Ingredients
1 cup flour
1/4 t. Salt
1 1/2 t. Baking powder
1/2 t. Poultry seasoning
1/2 cup milk 1/8 cup oil
one round steak
large onion
1 can of cream of chicken soup
2 cup water
Instructions
Mix above ingredients together. Dip dumplings by teaspoons in melted butter and roll in bread crumbs.
Take one round steak, pound it and cut it into 2-inch strips. Roll in flour seasoned with salt and pepper and paprika. Brown in oil.
Cut large onion on meat. Pour in 1/2 cup water. Cover and sinner 30 minutes.
Add 1 can of cream of chicken soup and 1 1/2 cups more water.
Put in casserole dish. Add dumplings on top and bake at 425 degrees for at 25 minutes.