Recipe: Chicken Tikka Masala

Print This Post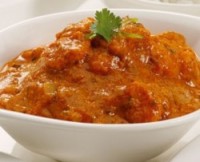 "Tikka" means pieces and "Masala" means both spice and spices. When wet ingredients are added to a spice mixture, such as yogurt or water, it's called a "wet" masala.
As you can see from the ingredient list below, making Indian Curry is a bit complex. For this reason, I like to use a sauce starter, my favorite being the Patak's Cooking Sauce brand. You can usually find an Indian cooking sauce in the ethic food section of the grocery story and they're very common at specialty stores. You can also order it online, but the shipping charges make it a bit expensive.  But
The Easy Method
Ingredients
1 cup plain yogurt
2 chicken breasts, skinless, cut into 1″ chunks
15 oz Indian Cooking Sauce
1 can diced tomatoes or two fresh diced tomatoes
1 medium onion diced
2 tbsps olive oil
1 can coconut milk (optional for richer Korma taste)
Instructions
Marinate the chicken breasts in yogurt and cook in oven until tender
Heat stovetop to medium and add 2 tbsps of olive oil to a large sauce pan. Cook onions until they begin to be come translucent, but not browned
Add cooked chicken, stir
Add Indian Cooking Sauce, Tomatoes, and coconut milk. Stir occasionally until hot. Serve over or along side rice and naan bread.
The Complex Method
Chicken & Masala rub Ingredients
1 cup plain yogurt
1 cup finely chopped fresh coriander leaves
2 tbsps ginger paste
3 tbsps garlic paste
3-4 tbsps garam masala
6 peppercorns/ 2 dry red chillies
3 tbsps lime/ lemon juice
3 cups chicken breast, skinless and cut into 1″ chunks
Sauce Ingredients
2 medium-sized onions finely chopped
6 cloves garlic chopped fine
5 pods cardamom
6 medium-sized fresh tomatoes chopped fine (canned tomatoes okay)
2 tbsps garam masala
2 tsps soft brown sugar
1 cup single cream
3 tbsps almonds blanched and ground to a paste
3 tbsps vegetable/ canola/ sunflower cooking oil
Salt to taste
Instructions
Grind the chopped coriander (keep some aside for garnishing) and all other marinade ingredients (except yogurt) to a smooth paste in a food processor.
Pour the above mix into a large bowl and add yogurt. Mix well. Add the chicken pieces and mix well. Cover the bowl and refrigerate. Allow to marinate overnight.
Thread the chicken onto skewers and keep ready.
Preheat your oven or grill to medium high (200 C/ 400F/ Gas Mark 6). Place the skewers on the grill racks in your oven with a tray underneath to catch drippings. Roast open till the chicken is browned on all sides and tender. Keep aside.
To make the gravy/ sauce: Heat the oil in a deep pan on a medium flame and add the onion. Cook till soft.
Now add the cardamom and the garlic. Fry for 2-3 minutes.
Add the garam masala, brown sugar, tomatoes, almonds and mix well. Cook till the tomatoes are soft and a thick paste forms.
Add the grilled Chicken Tikkas (chunks/ pieces) and stir. Cook for 10 minutes.
Add the cream and mix well. Turn off the flame.
Garnish the dish with chopped coriander leaves and serve hot with rice and naan.